Strong Acid System - Drying Systems
September 30, 2002
---
The Drying Acid System absorbs the water vapor remaining in the gas after it leaves the Gas Cleaning Section of the plant. The primary reason for drying the gas is to avoid corrosion caused by wet SO2 gas before the converter and by wet SO3 after conversion and to avoid acid condensation during shut-downs and thus protect the catalyst from degradation.
Drying the gas will also help to maintain a clear stack by avoiding the formation of excessive amounts of sub-micron mist particles that may over load the mist eliminators in the Final Tower.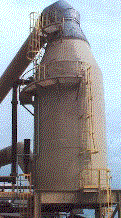 A typical Drying Acid System consists of the following items of equipment:
a) Drying Tower
A typical Drying Tower is a vertical cyclindrical vessel designed to contact process gas and strong sulphuric acid (93 to 98.5% H2SO4) for the purpose of drying the gas. The tower may be constructed of specialty alloys such as the high silicon stainless steels, nickel-chromium alloys or the more traditional brick lined carbon steel. The tower will be equipped with a packing support, packing, acid distributor, and mist eliminator.
A pump tank is required to hold the acid that is circulated in the drying acid system. The pump tank may be constructed of specialty alloys or the more traditional brick lined carbon steel. The pump tank holds sufficient acid to enable the circulating pumps to operate and provides sufficient room to hold the acid that drains down out of the system when the circulation is shutdown. In some designs the pump tank is a standalone vessel or can be partially or fully integrated with the Drying Tower as is the case in a pump boot arrangement.
c) Acid Pump
An acid pump is required to circulate the acid from the pump tank up to the distributor inside the Drying Tower. The acid flows by gravity over the packing and drain out the bottom or side of the Drying Tower back to the pump tank. The pump can be a vertical submerged centrifugal pump in which case it would be mounted in the pump tank. External vertical centrifugal pumps are also available as well as horizontal centrifugal pump types, although the latter is uncommon.
d) Acid Cooler
The absorption of water into sulphuric acid is an exothermic reaction and will cause the temperature of the acid to rise unless the heat of absorption is removed. The heat is typically removed in either a plate heat exchanger or anodically protected shell and tube heat exchanger.
e) Piping
Acid piping is required to carry the acid from one piece of equipment to the next. Materials vary considerably depending on the acid concentration, temperature and cost.
f) Instrumentation and Controls
Instrumentation and controls are required to monitor the operation of the system and control its operating parameters. Acid concentration, flow and temperature are the most important factors in ensuring the system is performing its function of gas drying as efficiently as possible.