Materials of Construction - Metals - Avesta 254 SMO
September 7, 2001
Avesta Sheffield 254 SMO® (UNS S31254) is an austenitic stainless steel which due to its high molybdenum content possesses very high resistance to pitting and crevice corrosion. The metal was developed for use in halide-containing environments such as seawater. 254 SMO also shows good resistance to uniform corrosion and is superior to conventional stainless steels especially in acids containing halides.
The high levels of molybdenum in particular but also of chromium and nitrogen endow 254 SMO with extremely good resistance to pitting and crevice corrosion. The addition of copper provides improved resistance in certain acids. Futhermore, due to its relatively high nickel content in combination with the high levels of chromium and molybdenum 254 SMO possesses good resistance to stress corrosion cracking.
Even highly alloyed stainless steels have a vary limited applicability in environments which contain halide ions, e.g. chloride, bromide and fluoride solutions. For this reason it has often been necessary to use expensive materials such as nickel based alloys or titanium for these environments. 254 SMO was developed with a view of offering a less expensive alternative.
Due to its high nitrogen content 254 SMO has higher mechanical strength than most other austenitic stainless steels. Like these 254 SMO is characterized by high ductility and impact strength as well as good weldability. The high molybdenum content of 254 SMO can lead to an increased oxidation rate at annealing and as a consequence a rougher surface finish after pickling than standard stainless steels. This has, however, no negative influence on the corrosion resistance of the material.
| | | |
| --- | --- | --- |
| Nickel | Ni | 18 |
| Chromium | Cr | 20 |
| Molybdenum | Mo | 6.1 |
| Nitrogen | N | 0.20 |
| Carbon | C | 0.01 |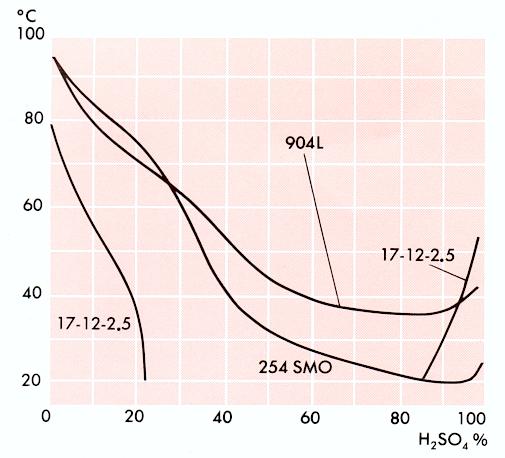 Corrosion Resistance
Isocorrosion Curves
0.1 mm/year, in pure sulphuric acid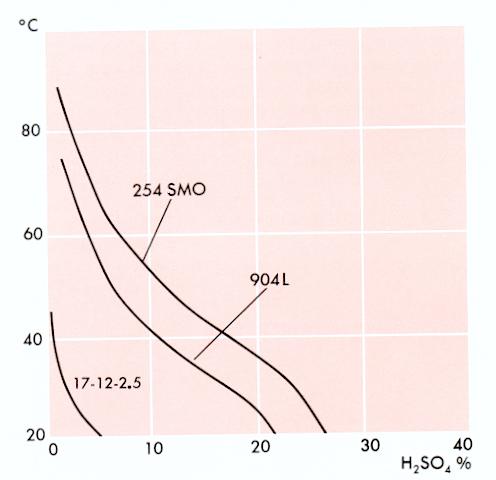 Isocorrosion Curves
0.1 mm/year, in pure sulphuric acid containing 2000 ppm of chloride ions
Physical Properties @20ºC
| | |
| --- | --- |
| Density | 8000 kg/m³ |
| Thermal Conductivity | 13 W/m ºC |
| Heat Capacity | 500 J/kg ºC |
| Modulus of Elasticity | 200 kN/mm² |
Mechanical Properties @20ºC
| | |
| --- | --- |
| Ultimate Tensile Strength | 650 N/mm² (min.) |
| Yield Strength (0.2% offset) | 300 N/mm² (min.) |
Hot working should be carried out in the temperature range 1000-1200ºC. Higher temperatures will reduce the workability. Fairly heavy scaling occurs at tempertaures exceeding 1150ºC.

To ensure dissolution of possible precipitations of secondary phases from the hot forming, the subsequent heat treatment should take place at minimum 1150ºC. The material should then be cooled as quickly as possible. A cooling rate that is too slow can result in reduced corrosion resistance.

254 SMO possesses very good cold formability. Bending, pressing and other forming operations which are used in fabrication can be carried out without difficulty. Practical experience obtained from the pressing of heat exchanger plates has been very favourable. The steel work hardens rapidly.

254 SMO possesses good weldability. When delivered, sheets and plates have a homogeneous composition. Remelting of the parent metal, such as during welding without filler metal, may cause microscale variations in composition for elements such as chromium, nickel and particularly molybdenum. This phenomenon occurs in all highly alloyed stainless steels. These variations may reduce the pitting resistance of the weld. GTA and plasma arc welding without filler metal should therefore be avoided.

The material may not be subjected to abrasive contact with copper/brass items. Penetration of copper/brass into the grain boundaries can give rise to crack formation.

Avesta P12 or P16 welding consumables should be used for all welding methods.

Ignite the electrode in the joint since ignition burns beside the weld can give rise to corrosion attacks.

Heat treatment is normally not necessary after welding. However, welding without filler metal should be followed by solution annealing at 1150-1200ºC and subsequent rapid cooling in order to achieve the best possible corrosion resistance.

To ensure optimum corrosion resistance the welds should be cleaned, preferably by pickling.