Storage/Loading/Unloading - Tank Car
April 2, 2008
Introduction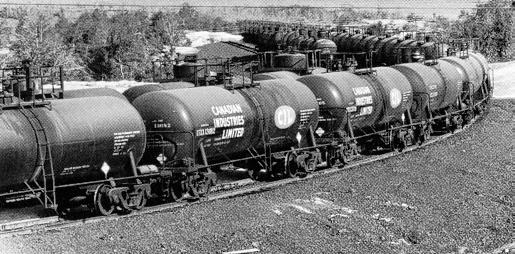 The transportation of sulphuric acid over large distances is a requirement since the acid is rarely produced in the vicinity of its use. One of the most effective means of moving large quantities of acid overland is using rail tank cars. The most economical way to transport acid by rail is the use of unit trains. Unit trains are dedicate trains consisting of 36 to 56 tank cars (3600 to 5600 tons) that move acid from the production site to storage depots located in the heart of the market areas. From the storage depots acid can be further distributed by rail tank car or by tank trucks
Two sizes of tank cars are in general use; 50 and 100 ton tank cars.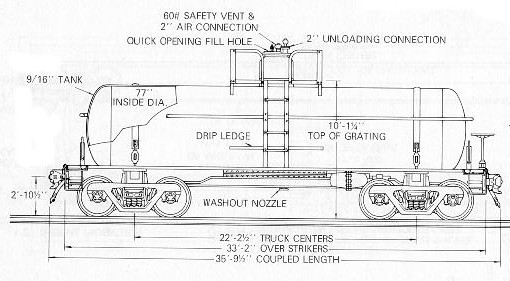 7,000 US Gallon Capacity - DOT 103AW (50 ton)

13,350 US Gallon Capacity - DOT 111A100W2 (100 ton)
Tank cars carrying sulphuric acid generally are equipped with the following:
Steel fusion welded tank with a either a dome or manway.
Bottom outlets are prohibited.
The tank car may be equipped with a bottom washout.
Top loading and unloading (2" connection)
Safety relief valve.
Maybe insulated or non-insulated.
Tank car may be lined depending on the acid strength being carried.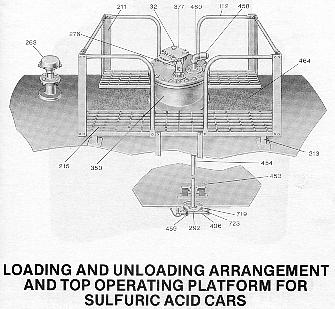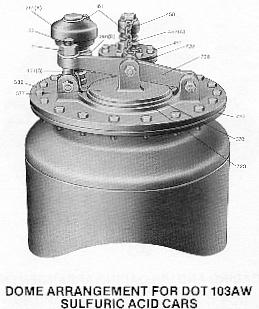 The Association of American Railroads (AAR) has adopted a requirement that new and existing sulphuric acid cars be equipped to provide improved top fittings integrity. This is an effort to enhance the durability of top fittings if cars roll over in an accident. In a typical derailment, product is loss when top fittings become damaged.

Improved integrity of the top fittings can be provided in a number of ways. One option is to lower the profile of the top fittings so they are better protected. Structural protective devices can be used in combination with the lower profile. AAR document CPC-1117 details these requirements.

Regulations require that the retrofits to existing tank cars be completed in ten (10) years.

The AAR has adopted a requirement that 35 psi pressure relief valves be removed from tanks in hazardous materials service. These pressure relief valves have been the cause of non-accidental releases of materials which have been implicated in injuries to railway personnel. AAR document CPC-1119 provides details. The 35 psi pressure relief valve is to be replaced with a new pressure relief valve set at 75 psi.