News
September 14, 2018 - Scientist David Pearson still has a vivid memory of a "bad air day" when he was getting out of his car at Laurentian University in the early 1970s, prior to the Inco Superstack being built. "I ran from my car to get in the building," he recalled, during a press conference Friday at the Vale Copper Cliff Smelting Complex. "It was not a pleasant experience." Friday's event marked the end of the mining company's six-year, $1-billion Clean Atmospheric Emissions Reduction project. It involved the construction of two new converters, which have special hoods to capture sulphur-dioxide gas, and a new wet-gas cleaning plant that captures 85 per cent of the sulphur-dioxide emissions previously emitted by the Superstack. As well, Clean AER introduced a baghouse/fan building that acts like a giant vacuum cleaner, reducing metals particulate emissions by 40 per cent, and a pair of new 450-foot stacks that will be more efficient to operate than the Superstack.Vale expects natural gas consumption to drop by nearly half once the Superstack is taken out of service. Pearson, who was on hand for the launch of the Clean AER project back in 2012, said the addition of the Superstack in 1972 was an important first step in improving the environment locally, directing sulphur-dioxide emissions away from the Sudbury area. More work to reduce emissions followed in the next few decades, said the former Science North director, resulting in fish returning to all of the area's 300 lakes. The final lake that had remained barren finally saw fish taking hold again last year, he added. The Clean AER changes, said Pearson, will mark yet another major improvement for the environment. "In the 1960s and 1970s, the emissions from three days are what the emissions will be in one year with this program," he pointed out. "I think it would take over 100 years of (Clean AER) emissions to meet the emissions of the late 1960s. It is extraordinary."Dave Stefanuto, vice-president of projects for Vale's North Atlantic Operations, said about 80 per cent of the smelter complex has been overhauled. "Today is clearly a great day," he said. "We have reduced emissions to one per cent of what we emitted when we created the Superstack in 1972."Ricus Grimbeek, chief operating officer for Vale's North Atlantic Operations and Asian Refineries, said it was a big challenge to complete the Clean AER project while the smelter complex was in operation. "It's a lot like doing open heart surgery while running a marathon," he said. Grimbeek said that when he first saw photos of the Sudbury area from the 1970s, "it looked like the moon." When the Superstack was introduced in 1972, the structure became a landmark that could be seen as far away as the Sudbury Airport. The latest initiative with sulphur-dioxide reduction, said Grimbeek, "does show what industry can do and how technology evolves," the result being the Superstack is being replaced by two smaller stacks.Sudbury Liberal MP Paul Lefebvre, who was recently appointed parliamentary assistant to the Minister of Natural Resources, said that 40 years ago "we had to create a big smokestack to get the pollution away from us." Four decades later, emissions from the smelter have been reduced to a trickle of what they once were. "Because of these efforts, Sudbury has gone from pollution capital to one of the most innovative centres in the world and it's an amazing story," he said. "The times have changed. Technology has changed. Vale is leading the way."Construction of the two new stacks is well underway and steel liners will be installed next year. In 2020, the Superstack's steel liner will be removed and the structure will be taken out of service and placed in care and maintenance. The removal of the Superstack's concrete shell will then begin and continue over several years. Back in 1970, the smelter produced sulphur-dioxide emissions of about 2,500 kilotonnes/year. By 1990, emissions were down to 617 kt/year. As of 2,000, the figure had fallen to 223 kt/year. As a result of the Clean AER project, emissions will be reduced to just 25 kt/year. When the Clean AER project was launched back in June of 2012, it was to be a $2-billion endeavour. But as work on the began, Vale decided to cut it the project in half to $1 billion in changes. The company cited volatile market conditions, operating cost challenges, and the commissioning of the Long Harbour project in Newfoundland, which would handle ore mined at the company's Voisey's Bay operations that had been processed at the Copper Cliff Smelting Complex. The smelter, meanwhile, was going down to one furnace from two.Greater Sudbury Mayor Brian Bigger said the Clean AER project has a global significance. "It demonstrates such a strong commitment to our community, a strong belief in the future of the Sudbury Basin," he said.

June 9, 2016 - Greater Sudburians should be breathing a little easier these days, based on the results of Clean Air Sudbury's newest report. Clearing in the Air, the third report by the local non-profit group on air quality trends in the city, was released on Wednesday. Based on data from the Ontario Ministry of the Environment and Climate Change, the National Pollutant Release Inventory and the Greater Sudbury Sulphur Dioxide and Particulate Monitoring Networks operated by Vale and Glencore, the report showed that Greater Sudbury's air quality continues to improve. "This is a trend we have seen over a number of decades," said Ray Potvin, a former air quality specialist for the province and private sector, who authored the report. "This report shows that trend is ongoing. These improvements are consistent with what we've seen across the province, in terms of air quality, during the past 10 years. This is a result of governments requiring stricter emission controls." Sudbury actually ranked better than many other cities, in both Northern and southern Ontario, in terms of air quality from 2008 to 2014, the years covered by the report. Sudbury's air quality index (AQI) was below 31, meaning very good or good, about 94 per cent of the time. That's roughly on par with Sault Ste. Marie, North Bay and Ottawa and better than Windsor, Hamilton, Toronto or Parry Sound. AQI index is based on hourly average readings for certain air pollutants that cause adverse effects on health or the environment - sulphur dioxide (SO2, emitted during the smelting process), ground-level ozone (O3, associated with smog events), nitrogen dioxide (NO2), total reduced sulphur (TRS) compounds, carbon monoxide (CO), and fine particulate matter (PM25). "It seems like the programs that have been put in place to reduce emissions for transportation, for example, the lower sulphur content of fuels and the use of summer-grade gasoline, which is less volatile, has reduced the amount of smog being created over time," Potvin said, during a presentation at reThink Green. Sulphur dioxide is of particular interest in Sudbury, due to the area's mining heritage - industry accounted for 99.7 per cent of the city's SO2 emissions as of 2005, according to Environment Canada. The first sulphur dioxide monitor was set up during the 1950s in Skead. Today, 18 monitoring stations across the city provide ground-level readings every hour of the year. Clean Air Sudbury's second report, which tracked SO2 emissions from the 1960s to 2007, found the average had decreased by about 93 per cent. Upon completion of the next round of emission reductions, Wednesday's report said, the allowable annual emissions from smelters in the city will be further reduced by 65 per cent from the 2014 limit. Sudbury's composite mean SO2 emissions, in parts per billion, were lower than many other Ontario cities, particularly those with industrial or manufacturing as major components of their economies or sit close to American cities with similar industry, such as Sarnia, Hamilton and Windsor. Potvin noted a reduction in the frequency with which the one-hour SO2 limit was exceeded - from 353 times from 1998 to 2007, to 41 from 2008 to 2014. "These are very short-term events when the pollutants from the smelters come down to ground and we get elevated concentrations of sulphur dioxide for a short period of time," Potvin said. "Further improvements are expected as both governments and industry continue to work together to achieve additional reductions." Frank Javor, Vale's manager of environment air for Vale's Sudbury operations, said when the company's $1-billion Clean AER Project is complete, SO2 levels will be cut by 85 per cent from current levels. He also expects particulate metals to be reduced by 40 to 80 per cent, as well. "All of these reductions are step changes as a result of a number of projects," Javor said. "This Clean AER Project, we have been talking about it for quite a while and I'm happy to tell you as of today, we're about 60 per cent complete." By reducing the size of flues and stacks at the smelter, he said, greenhouse gases will also be reduced by around 40 per cent. "We're pretty excited about all of that," Javor said. There were two ground-level ozone episodes and one fine particulate matter episode from 2008 to 2014, according to Clean Air Sudbury Report, and those were from outside sources - the O3 from trans-boundary flows from south of the Great Lakes, and the PM25 from a forest fire in northern Manitoba. Jane Bulloch, health promoter with the Sudbury and District Health Unit, was encouraged by the report. "What this report demonstrates is a continuous improvement," she said. "That's what we want as a society - continuing changes to how we live, what products we consume, what sources of energy that we use, because we're not only doing this for our health, for me and you on a day-to-day basis, but we're doing this to mitigate climate change and we're doing this to conserve the natural world around us and its ecosystem. It's a bigger picture here than just the health effects on the ground for Sudburians."

August 27, 2015 - Vale received the second of three new converter vessels for its Copper Cliff Smelter Aug. 11 as part of the company's $1-billion Clean AER Project. The converter vessel weighs around 100 tonnes and is 14 metres long and 4.2 metres around. It is the second of three converters that are fabricated in Lively (a suburb of Sudbury) by Anmar for the project. "The delivery of this converter, which was fabricated here in Sudbury, marks significant progress in the advancement of the Clean AER Project," said Dave Marshall, director of the Clean AER Project, in a press release. The Clean Atmospheric Emissions Reduction Project is one of the largest single environmental investments in Ontario's history. It will reduce sulphur dioxide emissions by 85 per cent and greenhouse gas emissions by 40 per cent from current levels. It will also reduce dust and metals emissions a further 35 to 40 per cent. The project involves a complete retrofit of the converter aisle in the Copper Cliff Smelter. Sulphur dioxide that currently goes up the superstack from the converters will be captured in a new wet gas cleaning plant, sent to the acid plant, converted to sulphuric acid and sold. Greater Sudbury Regional Police provided an escort to guide the wide-load delivery through the city, and traffic was delayed temporarily during the evening delivery period. Vale has said the installation of the new technology would eliminate the need for the company's iconic superstack. Built in 1972, the 1,250-foot chimney was constructed to disperse sulphur dioxide and nitrogen dioxide emissions from the smelter over a wide area to lessen the smelter's environmental impact. www.northernontariobusiness.com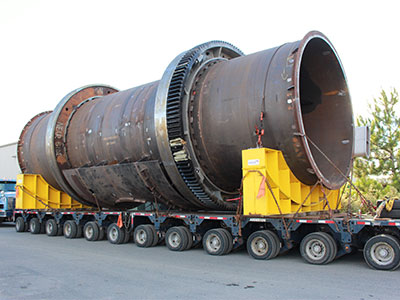 July 20, 2015 - Nickel giant Vale doesn't expect to meet its sulphur dioxide emission targets this year, a decade after they were set. Vale was granted a five-year extension, and has until the end of this year to get its annual emissions down to 66 kilotonnes. The company reports it's currently emitting about 150 kilotonnes, but is aiming to be down to 20 kilotonnes by 2018 — when $1 billion worth of upgrades are completed at its Copper Cliff smelter. "There's going to be a couple steps," said Dan Legrand, Vale's director of process technology. "The big one will occur in 2018 when we start capturing all of the converter gas." Vale has made other changes to its emissions process — racking up government credits that allow it to miss the emissions deadline without penalty. The Ministry of the Environment is keeping a close watch. "I think it's important that the company continue to work towards getting down to that 66 kilotonne limit," said ministry district manager Brian Cameron. Meanwhile, the pressure is on for smelter operations support manager Mike Zanini, who's supervising the upgrades as smelting continues. "We like to use the analogy that it's like trying to do open heart surgery — still trying to produce and keep everything going through the plant, while trying to modernize and upgrade at the same time," he said. That "surgery" is expected to continue until 2018, when Zanini said they expect "to have the majority of those emissions reductions delivered."

November 5, 2014 - Some call it an eyesore, while many others see it as one of Sudbury's most easily identifiable and iconic landmarks. By the end of the year, Vale is expected to determine the future of the Superstack, and decide whether or not it should be torn down. "The reality is that there's very little SO2 (sulphur dioxide) coming up the stack and it doesn't make a lot of sense for use to use the stack further," said Kelly Strong, Vale's vice-president of Ontario and UK operations. Strong addressed the Sudbury Chamber of Commerce Monday, where he updated the city's business community on Vale's operations and plans for the future in Sudbury. Strong's update on the Superstack was the day's big announcement. "It's a huge change for our community," he said. "There's a correlation between Sudbury and the Superstack. It's a huge landmark." When it was built in 1972, the 1,250-foot (350-metre) Inco Superstack was the world's tallest chimney, and the tallest freestanding structure in Canada. Today, Toronto's CN Tower is the only structure in Canada to surpass the Superstack in height, at 1,815 feet, or 553 metres. Inco built the Superstack to disperse sulphur dioxide and nitrogen dioxide emissions from its Copper Cliff smelter over a wide area, to lessen the smelter's environmental impact. But thanks to further advancements to reduce emissions from the smelter, the Superstack may no longer be needed. Once Vale's $1-billion Clean AER Project is completed, it will cut down sulphur dioxide emissions to 20 kilotonnes per year, below the provincial regulatory limit of 66 kilotonnes per year. The smelter's new output will represent an 85-per-cent reduction from today's emissions rates. Strong said Vale engineers are also working on a secondary bag house – essentially a giant vacuum, about the size of an NHL hockey rink — to capture dust and emissions. If Vale decides to stop using the Superstack, Strong said the company will build a much smaller chimney to replace it. But he said the new stack would still be tall enough to disperse emissions away from nearby communities. If the Superstack is discontinued, Strong said Vale will need to conduct further studies to decide how to fully decommission the structure. He said it is possible the structure would be demolished, because Vale would have no reason to continue maintaining the chimney if it is not in use.

September 9, 2013 - Installation of a converter at Vale's Copper Cliff smelter in Sudbury, a major component of the company's Clean AER Project, is nearly complete. The converter is the first of four converters to be replaced as part of the $1-billion project that will see sulphur dioxide, dust and metals emissions reduced by 85 per cent from current levels. Citing volatile market conditions and cost challenges, Vale announced in January that it was scaling back the cost of its Clean AER (Atmospheric Emissions Reduction) project from $2-billion to $1- million. At the same time, Vale indicated it would move to a single-furnace operation from a two- furnace operation. Although a significantly less investment, Vale said that the environmental impact would be greater, by reducing emissions substantially more than previously anticipated. "The original Clean AER project's scope was designed for a two-furnace operation so it meant that when we made the decision, we had to go back and rescope the project to accommodate the one furnace," said Vale spokesperson Angie Robson. Vale doesn't anticipate moving to a single furnace before 2016. A team was formed to study various aspects of the change and revise plans to accommodate the change to a single furnace. "Since (January) there's been a lot of work done to rescope the project," said Robson, "and that's still ongoing. "There are a lot of technical changes that have to be made. There's a whole team in the process of doing that work now. And that should be done towards the end of the year." Some work has since been eliminated to accommodate the change to one furnace. Vale's original plan involved constructing a second acid plant but with a one-furnace operation, that component is no longer necessary. However, the project is still making progress, added Robson. "A lot of the work on the project that would be independent of the move to one furnace has still gone forward. For example, we've been working on the installation of our No. 8 converter." Robson said installation of the said converter is 90 per cent complete and she expects the system finished soon. "The sulphur dioxide that now goes up the stack from our converter aisle will now be captured and sent to our acid plant," she said. "So the installation of this new No. 8 converter is part of the project." Upgrade work in the smelter to reduce nickel particulates is also moving forward. Other aspects of the project, including an adjusted timeline, are being reviewed. Vale originally estimated that the project would employ some 1,300 people, but since scaling back has yet to amend that prediction. "Obviously now that the scope of the project has been reduced somewhat we can expect that there will be less labour (needs); however, it's still a $1-billion massive project and it's certainly going to create a lot of jobs," said Robson. (Northern Ontario Business)

March 15, 2012

- Jacobs Engineering Group has secured an order from Vale Canada. According to the contract, Jacobs will design and provide a new sulfuric acid plant for Vale's Sudbury smelter located in Canada. The estimated value for this acid plant contract is $55 million. This contract includes the contact section design of the entire sulfuric acid plant and the supply of certain materials and all equipment. The Chemetics equipment from Jacob along with radial flow gas-gas exchangers, stainless steel converter, SARAMET piping and distributors, and acid coolers are featured in this acid plant. It is expected that the major part of the proprietary equipment may be fabricated at Jacobs' plant in Ontario. The clean atmospheric emissions reduction (AER) project of Vale includes this new sulfuric acid plant. The overall AER project is specifically designed to avoid emission of sulfur dioxide at the Sudbury location, by over 70% from the present level of emission. Vale believes that the clean AER project is the most important environmental investment in the Sudbury basin. Andy Kremer, VP of Jacobs Group commented that the company is delighted about the selection of its technology by Vale for this significant project and is expecting to continue its partnership with Vale. This acid plant is Jacobs' second main project at the site. The company received a contract for renovating the previous acid plant during 2002 and has several equipment orders, as the original acid plant was constructed in the 90s.





February 16, 2012 – Vale has approved a $2-billion investment in the "Clean AER Project", one of the largest environmental investments in Ontario's history.

The Clean AER Project (AER stands for atmospheric emissions reduction) will see sulphur dioxide emissions at Vale's smelter in Sudbury reduced by 70% from current levels. This reduction is in addition to the 90% reduction in sulphur dioxide emissions realized since 1970 and complements the ongoing success story that is the re-greening of the Sudbury region.

"This project is an important undertaking and will utilize the latest technological innovations available to us to retrofit our smelter complex," said John Pollesel, Chief Operating Officer, Vale Canada Limited and Director of Base Metals for Vale's North Atlantic operations. "We are creating a new legacy through this project – cleaner air for Sudbury, Ontario and Canada. It's a proud day and great news for all of us who work, live, and raise families in this wonderful community."

Vale has already invested heavily in the project, spending some $100-million on research and development over the past four years in preparation for final project approval. Project Director Dave Stefanuto says the Clean AER Project will be huge in both scope and logistical execution.

"During the overhaul, the smelter will continue to operate regularly," said Stefanuto. "We have already put a lot of time, energy, and resources into planning to ensure safety and efficiency,and now we're ready to begin construction."

The Clean AER Project will require an incredible amount of resources. Vale estimates the retrofit will require about 8-million person-hours of additional labour, with 1,300 workers on-site during peak construction.

The 70% reduction in sulphur dioxide emissions at Vale's Sudbury operations will put Vale well below government regulated emissions limits by 2015 – 45 kilotonnes per year versus the regulatory limit of 66 kilotonnes per year. The project will also reduce emissions of dust and metals by 35 to 40% over current levels.

The $2-billion investment is a clear indication that Sudbury and Canada are important contributors to Vale's future, said Pollesel.

"Once all the research was complete, this was an easy decision," he said. "It is the right thing to do as a company and the right thing to do for our employees and the local community to ensure the long-term sustainability of our operations. Sudbury has already earned a reputation for innovation in mining and environmental reclamation. The Clean AER Project promises to add another historic milestone to that success."

Construction will begin in April with site preparation activities. Project completion is estimated near the end of 2015.

In 2010, Vale announced a five-year investment program of $10 billion across Canada to enhance and expand its Canadian operations. Approximately $3.4 billion of this expenditure is being spent on modernizing Vale's Sudbury Operations, including the Clean AER Project.

July 6, 2010 - It could be several days before the series of events that unfolded during Thursday's sulphuric acid cloud at Vale's Copper Cliff Smelting Complex are known and steps are put in place to deal with another such incident. "We are still investigating," said Steve Ball, manager of corporate affairs for Vale's Ontario operations, said Monday. "We don't even have a debrief scheduled until (Tuesday)." The leak occurred about 8:15 a.m. July 1, when a railcar being filled with oleum (sulphur trioxide in sulphuric acid) overflowed. The pumping of oleum into rail cars was immediately stopped when an operator noticed the spill. According to Vale, the leak was contained and the situation was downgraded by 8:40 a.m. A "noticeable plume" of sulphuric acid leaked into the air, Vale said. It left the property and then dissipated over the Kelly Lake area. Oleum, also known as fuming sulfuric acid, is a solution of various compositions of sulfur trioxide in sulfuric acid or disulfuric acid (also known as pyrosulfuric acid). It is a liquid that turns into a mist when released into the atmosphere. While air horns sounded during the leak, it took about three hours to let the rest of the community know through the media, as well as police and fire officials, due to a loss of power in the general office at the smelting complex. "It's (loss of power) part of our debrief," said Ball. "What didn't, what did work. We need to make sure the (computer) server doesn't shut down in Copper Cliff again." Tim Beadman, the City of Greater Sudbury's chief of emergency services, said the events are still being examined. "Yes, there is a review underway to determine what worked well, what didn't work well," he said Monday. "I don't have any more information to share at this this point in time. I need to meet with the other service providers. That's being scheduled as we speak." On Friday, protesters, who held a short demonstration, said they were furious with statements from Ball that the spill posed no threat to public health. They are demanding answers from the Ministry of the Environment about how and why the spill occurred while liquid oleum was being pumped into rail cars at the acid plant at the smelter complex. Brian Cameron, district manager of the MOE in Sudbury, said ministry officials visited Vale property after the spill was reported to make sure the liquid portion was cleaned up. The matter has been referred to the ministry's investigations and enforcement branch and it will decide if charges will be laid against the company. Protesters, many of them members of CANARYS (Community Activists Need Answers Regarding Your Safety), were also angry Vale did not issue a news release about the spill until three hours after it occurred.

July 4, 2010 - The end to a long-running and bitter strike in Ontario is in sight as mining giant Vale announced it reached a tentative agreement with production and maintenance workers on Sunday. The metals miner says the agreement involves a new five-year contract with United Steel Workers Locals 6500 and 6200, which represent production and maintenance employees in Sudbury and Port Colborne. "It's been a long strike and I think that both sides worked hard," said Cory McPhee, vice-president of corporate affairs. "Both sides wanted a deal and that ultimately was the driving force to this outcome." Comprehensive memorandums of agreement are to be signed between Vale and the USW in Sudbury and Port Colborne on Monday. The deal contains a return-to-work protocol, but Vale says it is still unclear when the employees will be returning to work. "I can't comment on timing," Mr. McPhee said. "Once the vote process is sorted out, we'll begin bringing people back to work." The union will now present the deal to the membership and ratification votes will be scheduled. "Suffice to say, we're very happy to have a deal done," Mr. McPhee said. The announcement comes just days after Ontario Labour Minister Peter Fonseca said the two sides had agreed to resume bargaining. Before reaching an impasse, the two sides had agreed on all issues except one – the firing of eight workers during the strike and whether they were entitled to arbitration. A statement from Mr. Fonseca had said the impasse on the issue was not acceptable to the communities involved nor to the government. Mr. McPhee wouldn't say how the issue was dealt with but confirmed that it had been resolved. "We were able to come together and get over that hurdle." Vale says the settlements were reached with the help of mediators Kevin Burkett and Reg Pearson. More than 3,000 production and maintenance workers at Vale's Ontario operations in Sudbury and Port Colborne have been on strike since July 13. Key issues included a nickel bonus, job transfers, contracting out and pensions. Vale's nickel business employs more than 11,000 people worldwide and had net sales of $3.26-billion last year, accounting for 13.6 per cent of Vale's overall revenue.

July 1, 2010 - A hazardous material leak alert at a Sudbury, Ont., chemical plant Thursday morning was the result of a plume of sulphuric acid that was accidentally released into the air during a transfer, according to a press release from Vale Sudbury. The "noticeable" cloud of sulphuric acid "was released into the environment and escaped off property before dissipating over the Kelly Lake area," the press release said. The spill was due to overfilling a rail car, the company said. The alert was issued at 11:19 a.m. — about three hours after the leak happened. The leak itself was contained and downgraded at 8:40 a.m. "No injuries have been reported as a result of this incident," the release states. "The cause for this incident is currently under investigation." Steve Ball, a spokesperson for Vale, said there was no risk to the public. Ball apologized for the "late issuance" of the information. He said residents in the area have received letters and information in the past about how to respond when the hazardous material leak alert happens, and that information is released to the public as soon as it is possible.

May 28, 2010 - Just like that, an iconic name with more than 100 years of history in Canadian business is gone. Thursday, Brazilian mining giant Vale SA announced it is removing the name "Inco" from its nickel business, less than four years after it paid nearly $20-billion for the Canadian miner. It comes as Vale's relations with the former Inco employees in Canada are poor. In a statement, Vale said that scrapping the Inco name is a "natural evolution" of the company and aligns it more fully with Vale's other mining operations around the world. It marks the official end to a name that dates back to 1902 and has been synonymous with Canada's leadership role in the global nickel business, a role that some economic nationalists believe it has lost. When Vale acquired Inco in 2006, it decided to keep the Inco brand as it made a major commitment to Canada. "There were a lot of good reasons to keep the name," said Vale spokesman Cory McPhee. "One was a nod to the heritage of the company, which had more than a hundred years of existence. The other was from a marketing standpoint. The Inco nickel carried a premium in the market because of its quality." Mr. McPhee added the connection between Vale and Inco has become well-known over time, and the company wanted the entire organization to be brought under the "Vale" brand. That has been the goal since it rebranded itself as Vale in late 2007. (It was previously known as CVRD.) Vale's acquisition of Inco was the biggest takeover to date by a Latin American company. At the time, Vale chief executive Roger Agnelli said the transaction was "good for Inco and good for Canada."

July 13, 2009 – Vale S.A. (Vale) informs that the unionized maintenance and production employees at its operations in Sudbury and Port Colborne, province of Ontario, Canada, went on strike today after rejecting the company's settlement offer for a new three-year collective bargaining agreement. Our proposal aims to provide the right incentives to labor productivity growth and to enhance the foundations of our long-term competitiveness and capacity to continue to generate value. The strike affects 3,073 employees at our integrated mining, milling, smelting and refining operations in Sudbury, and 116 employees at our Port Colborne refinery. In 2008, finished nickel production originated from the Sudbury operations reached 85,300 metric tons, 31% of Vale's total output. Our Port Colborne facility produces platinum group metals, gold and silver intermediate products. As previously disclosed, the Sudbury and Port Colborne operations began an eight-week shutdown on June 1, 2009, and were scheduled to resume operations on July 27, 2009.

July 13, 2009 - Chemtrade Logistics Income Fund announced that Chemtrade's supply of sulphuric acid and liquid sulphur dioxide to its customers will not be affected by the labour disruption at Vale Inco's nickel mining and processing facilities at Sudbury. Mark Davis, President and CEO of Chemtrade, said, "Prior to Vale Inco's announcement in April of an extended shutdown we began building inventory to ensure that supply to our customers was protected. While Chemtrade's product supply of acid from Vale Inco ceased on May 9 and will not resume until the smelter is restarted, we will continue to supply our customers from inventory, our own sulphuric acid manufacturing facilities as well as sourcing from other suppliers. We will continue to review the situation but currently anticipate that we will be able to keep our customers supplied until Vale Inco resumes production."

April 16, 2009 - Major nickel mining operations in Sudbury, Ont., will come to a standstill for the first time in more than a century this summer after Brazil's Vale Inco announced plans to shutter its Sudbury mines and smelters for two months. Blaming the devastating downturn in nickel prices and plunging demand for the metal used to make stainless steel, Vale Inco parent Companhia Vale do Rio Doce [RIO-N] said late Thursday it will close its five operating Sudbury mines and its entire suite of nickel processing operations in June and July. Vale Inco spokesman Cory McPhee said there is no longer sufficient demand for all the nickel the company produces from its Sudbury operations. "The pipeline is full. We are not selling all the nickel we produce in Ontario and so this allows us to clear the pipeline. …When we return to work we are going to be in a much better position," Mr. McPhee said. About 5,000 Vale Inco employees will be affected. Mr. McPhee said the company will mandate employees to use their vacation time during the shutdown, but will likely have to issue temporary layoff notices. The planned shutdowns follow Xstrata Nickel's recent decision to shutter its mining operations in Sudbury, save for a development mine that won't reach full production until 2010. Xstrata laid off 686 workers at its Sudbury operations in February when it put its two operating mines on care and maintenance. It continues to construct the Nickel Rim South mine in the Northern Ontario city that has been the world's largest nickel mining centre since the early 1900's. In December, Vale Inco closed its Copper Cliff South mine in Sudbury. It recently said it is cutting 900 jobs including 350 in Canada. Vale and Xstrata were the respective victors in a heated takeover battle for Canadian mining stalwarts Inco and Falconbridge in 2006 and 2007. The foreign mining giants paid more than $40-billion combined for the Canadian companies. In order to win Ottawa's approval for the takeovers, both Vale and Xstrata promised not to lay off workers for three years. The price of nickel reached record highs above $23 (U.S.) a pound shortly after the buyouts. It has since fallen to about $5.50 a pound.

June 27, 2006 - INCO announced construction on a new $115 million facility that will reduce sulphur dioxide emissions from its Sudbury operation. The facility is expected to reduce emissions by 34 per cent using unique fluid bed roaster (FBR) off-gas scrubbing technology. The FBR SO2 Abatement project will include construction of a gas-cleaning facility adjacent to the existing FBR plant at the smelter; expansion of the existing acid plant; and construction of a Weak Acid Treatment plant at the Copper Cliff Mill Filter Plant. The project is scheduled for completion by the end of December 2006 with a potential operational date in early fall.